Owners of professional sports teams have a lot of responsibility when it comes to the success of their franchise. They are the ones putting up massive sums of money in an attempt to generate profit, but they also control the direction of personnel hirings. Much can be said about terrible owners in other sports, such as James Dolan of the Knicks, who can't seem to get over his love affair with Isaiah Thomas. However, Dolan at least supports his team and his city and wants the best for them. Recent events have revealed an NFL owner who does not display this courtesy, in addition to ineptitude.
Stan Kroenke went to college and graduate school in Missouri, and by all accounts is a very successful business man. He purchased a 40% stake in the Rams back in 1995 upon their move to St. Louis. Wikipedia describes him as a "well known sports mogul," and his corporation, Kroenke Sports Enterprises owns the Denver Nuggets and Avalanche, and the largest number of shares of the Premier League team Arsenal.
Wikipedia goes on to give an interesting take on Kroenke's public image: "a somewhat reclusive man who stays out of the limelight. He is popularly known as "Silent Stan" because he almost never gives interviews to the press. He rarely interferes in his teams' day-to-day operations."
Given all of this history, his proposal for a relocation of the Rams to Los Angeles was utterly shocking. Rather than emphasizing all the positive reasons for the Rams relocation, his proposal focused almost entirely on the negative reasons for staying in St. Louis. By itself, that may not seem so bad, but the words he chose in his proposal were incredibly insulting to the city his team has occupied for the last two decades. He went as far as to say that St. Louis' economy could not support three professional sports teams, that no NFL team could succeed there, and that the NFL would suffer as long as a team remained there.
The St. Louis regional chamber quickly responded, and poked holes in many of aspects of the proposal. The following facts in particular seemed to undermine Kroenke's position: St. Louis is the 20th largest US metro area in employment/personal income, and contains the headquarters for 19 Fortune 1000 companies. St. Louis may not be New York or Los Angeles, but it's certainly much better than small-market three-sport cities like Pittsburgh or Cleveland, neither of whom are considering a move.
St. Louis governor Jay Nixon may have had the best response of all to this fiasco: "Our fans support their professional and amateur teams…Especially ones that win." The Rams have not had a winning season since 2003, something that Kroenke conveniently omits in his proposal. He can talk all he wants about economics, but selling out NFL games is simple; if your team is not competitive, you will not sell all your tickets. Seeing as the Rams have not been very competitive for more than a decade, it's not surprising that Kroenke feels the need to shake things up. What is surprising, is that he believes moving the team might result in something positive.
Another surprise is Kroenke's faith in coach Jeff Fisher, another loser who has not enjoyed a winning season since 2008. Fisher is notorious for being one of the biggest scumbags in the league, widely hated by players and fans alike. His game-plans consistently involve dirty game play, putting in hits after the whistle, and a sense of accomplishment for causing injuries. He attempted to hire coordinator Greg Williams while he was under fire for the Saints "Bountygate," and only failed because Williams was suspended for a year. Give Fisher credit for his brass balls, as he hired Williams exactly one year later. The man clearly does not give a shit what people think of him, and also does not care about getting penalties. Here are the Rams penalty ranks under Fisher:
2015: 143 (6th)
2014: 143 (6th)
2013: 136 (3rd)
2012: 146 (2nd)
This is nothing specific to the Rams, take a look at the Titans penalty numbers under Fisher from 2001-2010, courtesy of a reference via PFT's Mike Florio:
"from 2001 to 2010, the Titans: (1) led the NFL in most personal fouls with 163; (2) had 67 unnecessary roughness penalties, leading the NFL; and (3) had 46 roughing the passer penalties, leading the NFL. More recently, Miklasz combined the full Houston/Tennessee years with Fisher's Rams teams and concluded that Fisher's teams had 236 more penalties than their opponents, 1,937 more penalty yards than their opponents, 116 fewer first downs via penalties than their opponents."
This information can be found via an article concerning former NFL safety Rodney Harrison, who accused Fisher of laughing after a play where Harrison was lying on the ground injured. What was interesting is how Fisher responded, denigrating Harrison rather than denying the accusation! Instead of defending his own integrity, Fisher cited Harrison's own reputation as a dirty player, and completely sidestepped anything to do with the accusation.
This approach seems oddly familiar to that of Kroenke's proposal, focusing on the negatives of St. Louis rather than support for a move to Los Angeles. At this point, I am forced to ask how much this Kroenke-Fisher combination cares about winning, relative to other whims. Most NFL coaches are given a very short one to two year leash when failing to succeed, yet Fisher seems to defy this trend. Kroenke has stuck with him, despite this and Fisher's terrible reputation.
I suspect that Kroenke is every bit the scumbag that Fisher is, that he wants this "old-school" mentality of messing with the head of opponents. For some reason, they seem to believe that this is crucial to a team's success, despite their abundant lack of it. Perhaps they just love each other's mustaches: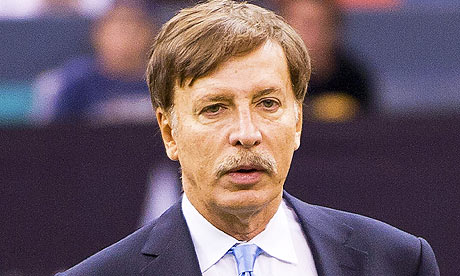 Regardless of why Kroenke loves Fisher, one thing seems clear. The Rams will continue to be no better than mediocre scumbags under Fisher, and only Los Angeles will suffer if Kroenke's proposal is accepted.